Sustainability 101: Event Report for Sustainability Meetup #8 (April 21, 2023)
This is an event report for Jagu'e'r Sustainability Group Meetup #8, which was held in April at Shibuya, Tokyo. This time, Sophie Lie-Brenny from Accenture was invited to give a keynote speech on the basics of sustainability, and then a discussion with panelists. This was the first time that the Sustainability Group,  or rather our community Jaguar, held a Meetup entirely in English. 
This is also the first event report fully documented in English. If you are interested in our community, you can get detailed information from the link below. Jagu'e'r stands for "Google Cloud User Group for Enterprise", and is a Google Cloud community in Japan.
Japan Google Cloud Usergroup for Enterprise 
Here is the agenda for the day. In her keynote speech, Sophie talked about the basic concepts of sustainability. In the panel discussion, following Sophie's lecture, various opinions and questions were raised and lively discussions were held.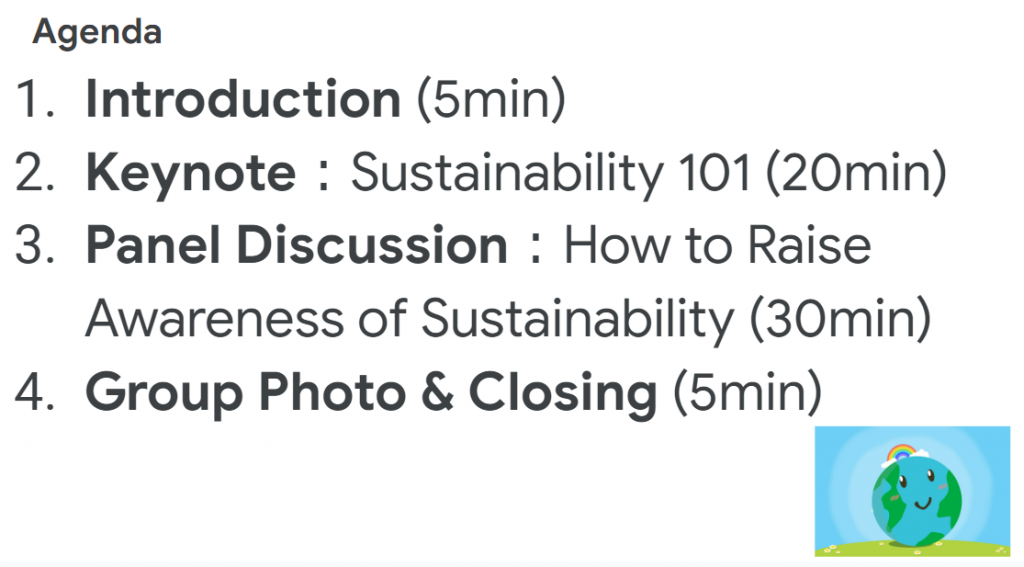 KeyNote – Sustainability 101 by Sophie Lie-Brenny 
First, what is sustainability? 
Sustainability is a broad term that encompasses environmental, social, and governance elements. Businesses can contribute to sustainability by reducing their environmental impact, improving their social performance, and demonstrating good governance. Sustainability is becoming increasingly important for businesses and consumers, not only in creating a better future for people and the planet, but also for the market. The global sustainability market is estimated to be worth around $22 billion (about ¥3 trillion) at present, and could reach $2.12 trillion (about ¥296 trillion) by 2050. This growth is due to a number of factors, including climate change, government regulation, and consumer demand. 
Why is sustainability important for business? 
Businesses that are committed to sustainability improve their financial performance. This is because they can save energy and other costs, and attract and retain customers who are interested in sustainable products and services. Sustainability can help businesses adapt to change. This is because it can better prepare for the challenges posed by climate change, such as extreme weather events and sea level rise. It can also help businesses reduce risk. This is because they are less likely to be sued for environmental damage, and are more likely to attract and retain employees who are interested in sustainability. 
How can businesses become sustainable? 
Here are some examples of how businesses can become sustainable:
Reduce energy consumption by using energy-efficient appliances and devices, and by introducing renewable energy systems.

Reduce water consumption by installing water-saving fixtures and using recycled water.

Reduce waste by recycling, composting, and donating unused materials.

Improve social performance by providing fair wages and working conditions, and by supporting local communities.

Demonstrate good governance by ensuring transparency about environmental and social performance, and by taking steps to mitigate negative impacts. 
The future of sustainability 
The future of sustainability is bright. The global sustainability market is growing rapidly, and demand for sustainable products and services is increasing. Businesses that are committed to sustainability are more likely to succeed in the coming years. 
Japan and sustainability
Japan is the fifth largest emitter of greenhouse gases in the world. The biggest contributors to Japan's greenhouse gas emissions are electricity, industry, and oil and gas production. Japan is promoting a transition to more sustainable energy sources, but there is some debate about whether nuclear power is a sustainable option. Japan has limited space for hydroelectric power plants. Despite these challenges, Japan is making progress towards sustainability. The government has set ambitious targets for reducing greenhouse gas emissions, and businesses are starting to invest in more sustainable practices. Japan is well-positioned to become a leader in the global sustainability movement. 
Question and Answers
Q1. How can I convince management that ESG can lead to profits in the long term, even if it appears to cut profits in the short term? 
A1. We may need to balance short-term growth with long-term risks. It seems that the demand for sustainable investment is increasing, as Japan has seen a surge in green loans and green bonds since the corona pandemic. 
Q2. Why are not all companies committed to ESG and sustainability? 
A2. It is very difficult to point to a specific cause, but here are some possible factors:
Conflict between culture and actual behavior: Although Japan has a culture that cherishes the changes of the four seasons, only 39% of Japanese consumers are interested in sustainability, according to a survey. There may be a contradiction between culture and actual behavior.

Cost issues: Sustainable products are often expensive, so Japanese consumers are less likely to make sustainable choices.

Convenience issues: Businesses tend to prioritize customer convenience, so convenience stores offer plastic spoons wrapped in plastic packaging when buying desserts or yogurt.

Lack of a medium- to long-term perspective: Many businesses tend to focus on short-term costs, and neglect long-term risks, and often do not engage in ESG.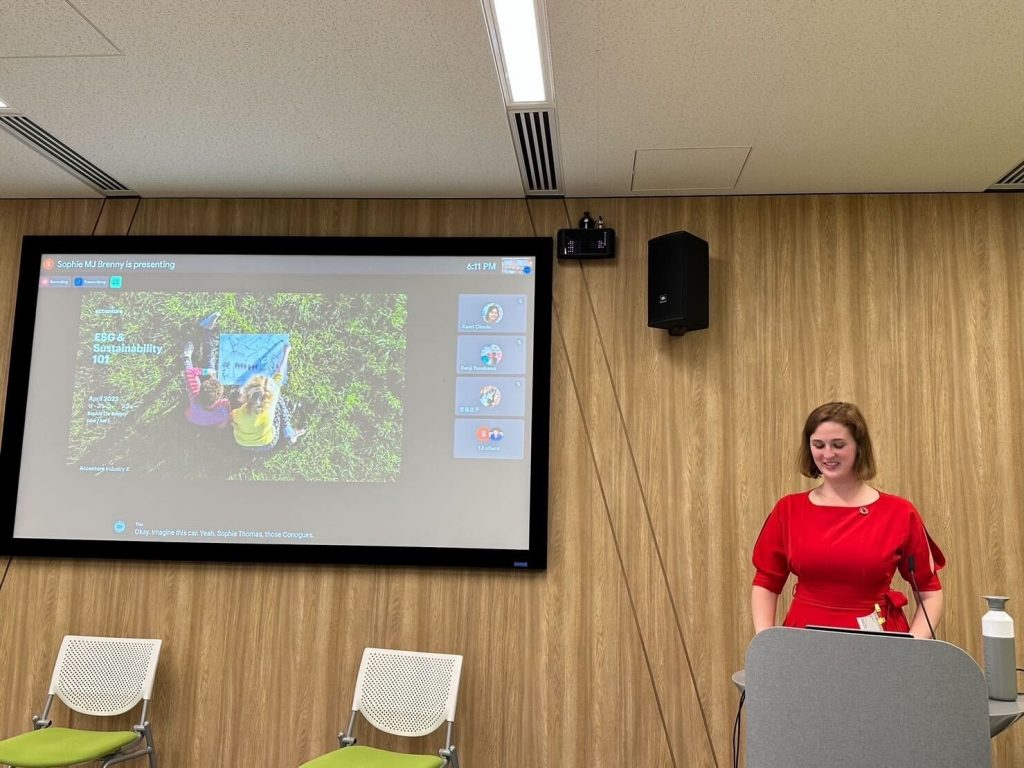 Panel Discussion – How to Raise Awareness of Sustainability
"Why do you think sustainability is important?" 
The panelists gave various answers to the first question.
Because it has an impact on the lives of future generations, not just the present.

Because it is important for all living things on this planet.

I used to think that humans were a bad thing for the environment, but I now believe that we can live more sustainably while still having a high quality of life.

I think we need to change now to avoid future environmental destruction.
Next, the panelists made comments based on their own backgrounds and situations on the difficult question of "How can we keep people interested in sustainability for the long term, not just the short term?"
In my case, I grew up in Africa and Asia, where I had the opportunity to see poverty and environmental degradation firsthand. This made me aware of the importance of long-term thinking.

I have a daughter and a niece, so I have an incentive to think about the future, not just the short term. I want to make sure that they have a safe and livable environment to live in in the future.

I think it is important to understand the environmental impact of our choices. We need to be more aware of the origin and how things are made that we use every day.

I think seeing is believing. If I can visualize my actions that have a sustainability impact, it will be easier to maintain my motivation for sustainability for the long term.
The importance of sustainability, and the motivation to maintain it, varies widely among individuals, including personal experiences and concern for future generations. In response to the moderator's question about how to stay motivated about sustainability, the panelists came up with the following ideas.
Participation in projects. For example, participating in projects that deepen understanding of sustainability, such as the "Power of Clothes" project by FR, which was discussed in the LT at the 7th Meetup, as well as recycling, reducing food waste, and environmental conservation projects.

Talking to many people. By talking to people from different cultures and backgrounds, you can find new perspectives on sustainability and climate change. It is important to accumulate this experience from the generation of children. This is possible in everyday life as well as on trips.

Learning about the latest trends. Sustainability knowledge is evolving every day. Therefore, it is important to understand the latest trends. You can do this in a variety of ways, such as reading articles, watching documentaries, and attending conferences, at your own initiative.

Taking action. Once you have a deeper understanding of sustainability, the most important thing is to take action based on it. There are many things that can be started gradually in the near future, such as recycling, composting, and energy conservation.
The moderator asked the panelists what common barriers they face when taking action on sustainability.
Some people believe that education and experience can lower barriers, while others believe that the framing of sustainability issues in a negative way can be an obstacle to taking action.

In terms of time, it is often easy to focus on short-term solutions, but we need to be aware of the long-term impact of irresponsible actions that do not consider sustainability.

The biggest obstacle may be the assumption that nothing will change with my own actions. According to a survey by Google, the longer the relevance to my daily life, the longer the interest in sustainability itself will last. It is important to start small, such as starting to count the number of clothes you own.
The last question is: What do you think you want to do as a member of the Jag'u'er Sustainability Group and as an individual?
I want to ask myself if I really need this before I go shopping. And I want to avoid unnecessary plastic packaging.

I think there are more things to be careful about in general consumption. For example, turning off unnecessary lights and unplugging other appliances that are not in use. In everything you do, you should ask yourself questions and choose more sustainable options, and think about what will happen as a result. In addition to self-questioning, you should choose more sustainable products. For example, bring your own bag and straw when shopping.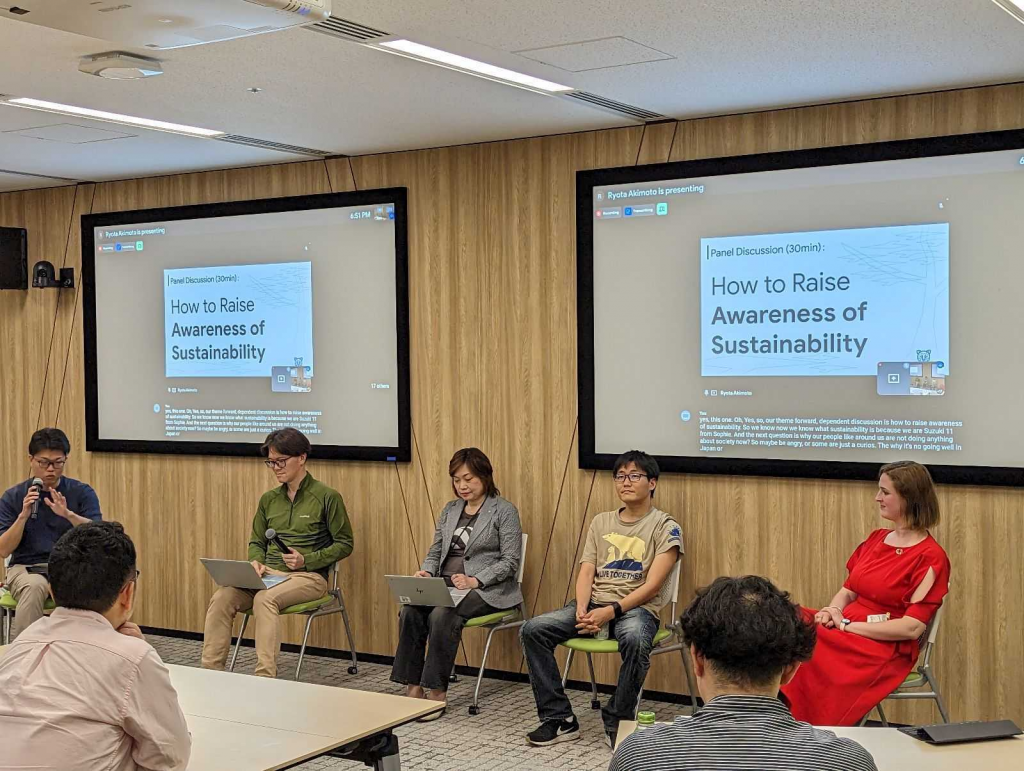 Conclusion 
In conclusion, we had a challenging but rewarding time at our first English-language presentation and panel discussion. We are grateful for the lively discussion and the opportunity to share Sophie's knowledge on sustainability.
We will continue to host new and innovative events, so please stay tuned for our next one!
We are excited to announce that our next event will be a collaboration with the Data Utilization Group! The event will be held on June 27th at 5:30pm.
As you may already know, sustainability is a complex topic that can be difficult to understand without data. We will be hearing from representatives from the Data Utilization Group, NRI, and Google Cloud on how data can be used to improve sustainability. The event will be held in a hybrid format, and there will be an after-party following the event. 
We hope to see you there!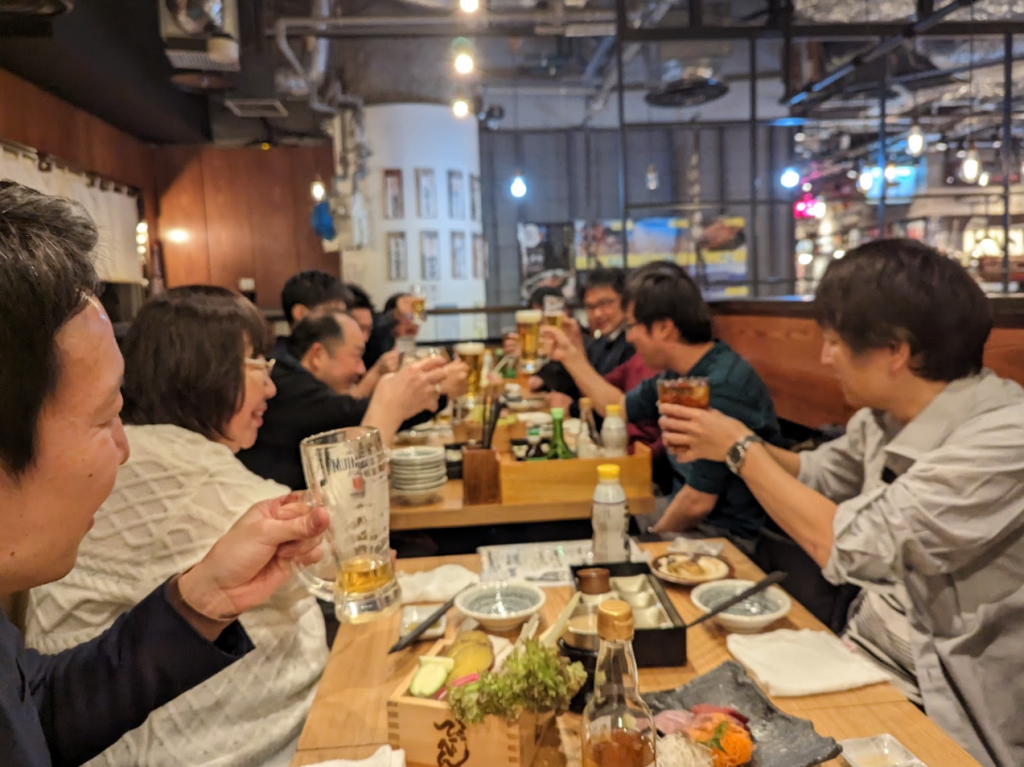 We hope you found this blog post informative and inspiring. We encourage you to learn more about sustainability together and to take action to make a difference in the world.
Thank you for reading!